Creating a beautiful space takes time and is not something that can be rushed. There is a lot you have to take into account when it comes to determining a room's paint color, including room size, sun exposure, and what mood you are looking to achieve. Factors such as room size and sun exposure combined with certain colors will have different effects. If you want the room to feel cozy, you will be picking a different color than if you wanted it to feel more stimulating. If you want the room to feel like a different size altogether, the color you choose will matter. So how do you go about this process? In this blog, we'll discuss a few questions you can ask yourself before settling on a color for your space. Let's get started.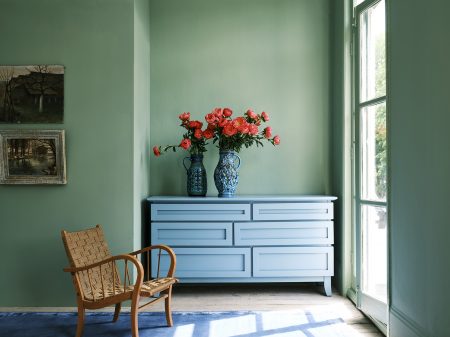 The first question you want to ask yourself is where you are in the decorating process. Is the room fully furnished, or is it empty and bare? Since paint is something you can always change, we recommend you get the large components in place first before settling on an exact color. This means having all your furniture picked out. After you invest in reupholstering a sofa or that expensive custom window treatment you committed to, paint should be the last thing you apply. Another question to ask yourself is: what are the current trends? This is an important question because it is one that can add value to your home! Of course, you want to pick a color that reflects your own personality, however, it is better to choose a likable color versus one that is more unique. More neutral colors tend to be on the safer side because when people look at a home, they want to easily picture their items and furniture in the room. Interior trends change, and people tend to feel comfortable feeling 'up-to-date'. Some colors trend just because they simply feel classic and appealing at all times.
One of the most significant questions you want to ask yourself when choosing a paint color is the mood you want to achieve in the room. Regardless of what stage you are in the painting process, you want to have an idea of the goal you want to achieve in the room. It can be to create a calming space which can be for a bedroom or bathroom; or it can be a more exciting and creative space that's meant for working. It helps to understand color psychology because each color affects our moods in different ways and you can change how people will feel in a room just based on that one factor. After you choose your paint colors, you are ready to get started! The size of the space and number of rooms will determine how long it will take to complete the job. If you want the job done right and the paint to be applied properly in ideal conditions, give us a call. When you hire a professional painter, you can ensure mistakes won't be made. Proper prepping and cleaning, aside from the application itself, is very important because if it's not done correctly, your paint job won't last. 
We hope these tips helped you feel more prepared for your next painting project! At J&S Painting Plus, Inc., we are fully licensed and insured painting contractors, offering the highest standard of quality workmanship for exterior house painting and all your residential painting needs at the most affordable prices. Contact us today via our website for a free quote to get started: https://jandspaintingplus.com/contact-us/  
Sources: 
https://www.bhg.com/decorating/color/paint/questions-to-ask-before-you-choose-a-paint-color/?slide=slide_d655463b-9614-48c6-bde0-4a0b56d1438f#slide_d655463b-9614-48c6-bde0-4a0b56d1438f