Latex paint is a term that is applied for water-based, latex, or vinyl styrene paints. Did you know, originally, latex was the name for sap from the Brazilian Rubber Tree? Some people refer to this substance as latex rubber. This type of paint is recommended for interior and exterior applications. In this blog post, we're going to talk about the 5 secrets about Latex paints, and why you should use it for your home.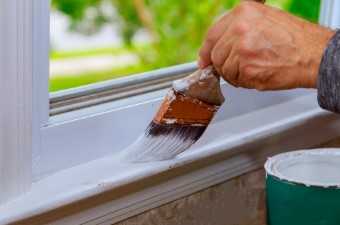 1. Safer and Greener 
Latex is better for the environment because it contains fewer chemicals than those found in oil paints. It also releases fewer harmful fumes as it dries. You can actually recycle unused latex paint! 
2. Easier To Apply and Touch up
Latex paint is generally easier to apply because of its texture and fewer chemicals than oil paints. It goes on smoothly and covers well. In addition, latex paint has a thinner consistency, which makes it easier to touch up imperfections and missed spots. 
3. Less Chance of Fading and Peeling
Compared to oil paint, latex retains more flexibility and elasticity over time. We recommend this paint for those who want to keep their wall color the same for years. With elasticity, it is less likely to fade, yellow, crack, blister, or peel. However, no matter what type of paint you use, to ensure a quality, long-lasting paint job, proper surface preparation, application, are always essential. 
4. Faster Drying Time 
Latex paint is known to dry faster than other paints because it's thinner, and easily affected by airflow. One coat typically takes one hour to dry, multiple coats can be applied in one day, if necessary, and you'll be able to get back to using your space sooner rather than later. 
5. No Strong Odor 
Luckily, there is no odor for latex paint because it is solely water-based. Odorless paints are a lot more environmentally friendly than their traditional counterparts. In addition, Latex paint allows moisture from drywall to "breathe" which prevents mold and mildew. 
At J&S Painting Plus, our team is ready to help with your next home project. We can help decide which paint will be best for your home and if Latex paint may be right for you. There are many benefits to choosing this type of paint because of its elasticity and flexibility to the home's care. Are you ready to get started? Contact us to get a quote today: https://jandspaintingplus.com/contact-us/